GALVALUME steel sheet combines the merits of galvanized steel sheet and aluminized steel sheet
GALVALUME Steel Sheet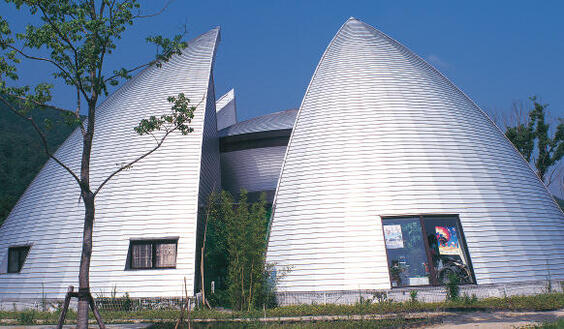 GALVALUME Steel Sheet
GALVALUME steel sheet is an aluminum-zinc alloy-plated steel sheet developed by the Bethlehem Steel Corporation in the US. The plating consists of 55% aluminum, 43.4% zinc and 1.6% silicon. By adding the galvanization (galvanic protection) of zinc to the long-term durability and heat resistance of aluminum, a Galvalume steel sheet has a durability of about three to six times longer than galvanized steel (270 g/m2 both) under various conditions of use.
Features
Coated steel sheet for a new age - economical, featuring excellent corrosion resistance, heat resistance, heat reflectance, and workability.
Excellent long term durability

GALVALUME steel sheet does not readily lose its beauty even when exposed to the elements for long periods of time and has been proven to be three to six times more durable than galvanized steel (270 g/m2 both) under various conditions of use. Its durability is particularly demonstrated in coastal areas and harsh environments of industrial zones.
Eco-friendly material

GALVALUME steel sheet is coated with a special film by special treatment that contains absolutely no chromate.
Good heat resistance

GALVALUME steel sheet has a heat resistance similar to aluminized steel sheet because of the high aluminum content: 55% mass ratio and 80% volumetric ratio.
Coupled with its good heat reflectance, the effect is well exhibited with toaster ovens, rice cookers, etc.
Good heat reflectance

The surface reflectance of GALVALUME steel sheet is high, it is very effective for preventing indoor temperature rises in roof applications, as surface temperature rises minimally.
Smooth shiny surface

The silver surface has a unique delicate spangle that is highly appreciated when used as a building material.
Same workability and paintability as galvanized steel

GALVALUME steel sheet can be worked and painted afterwards just like galvanized steel sheet.
Performance
Maximum corrosion prevention with 55% aluminum content
Both zinc and aluminum for protecting steel sheet
GALVALUME steel sheet exhibits the corrosion prevention of aluminum and the sacrificial protection and self-mending action of zinc in a good balance that prevents steel sheet from rusting for a long period of time.
The layering of the GALVALUME steel sheet plating begins by solidifying aluminum and then crystallizing zinc within that layer to form the crystal cross-section shown in the below figure. Over a long period of time, the zinc in the crystalline structure dissolves out and tiny cohesive oxides from the aluminum fill those spaces, creating what is known as the "self-mending action" of GALVALUME steel sheet.
Model of GALVALUME steel sheet alloy plating under microscope