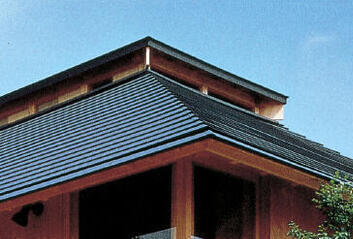 Moldings
EVERROOF Longitudinal roof shape, type 1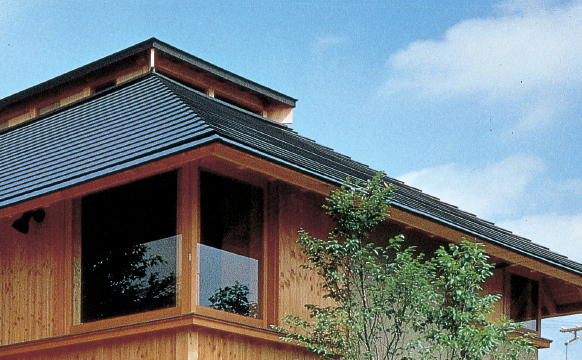 Features
An elegant and beautiful finish

A reasonably high leveling horizontal line softly wraps the entire roof. It produces a heavy and elegant appearance for the roof, which matches any environment.
Rain, wind, earthquake resistant structure

The gauze structure, which utilizes the steel plate spring back, has excellent watertightness and wind pressure resistance. Due to its cross sectional shape with many air pockets, it prevents rainwater from entering due to a capillary phenomenon. In addition, it is light with 1/10 the weight of a tile, and is advantageous during earthquakes.
Excellent quality

The selected high-grade steel sheets specified by our company will be constructed with roofing material formed into a robust shape, with high quality level.
Construction method to shorten the construction period

Type 1 is a quick fastening method which directly fastens the main body to the nail or stops the drill bit. Furthermore, the construction efficiency is extremely high by utilizing joints and a fixed length method, and it makes a shortened construction period possible.
EVERROOF Vertical flat shape, type 1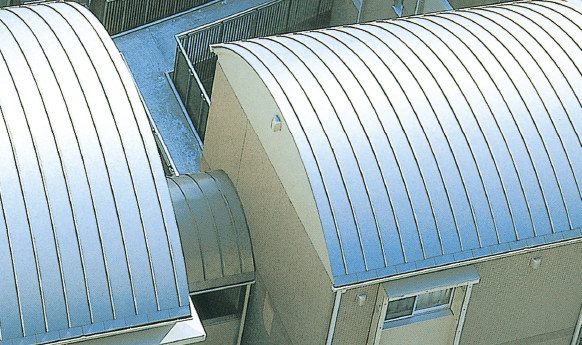 Features
Produce a refreshing appearance

Since this is a mating type, it produces a smart and refreshing appearance. In addition, there are 2 types of surface shapes: Flat (straight only) and arch (with a longitudinal rib).
Construction is easy

Since this is a cap integration mating type, construction is easy.
Corresponds to an arch roof

The minimum radius can correspond to R=1.5m. The arch top surface shape becomes a vertical rib.
Excellent strength/rigidity

The negative pressure strength is 6370N/m2 (650kgf/m2), and there is sufficient strength.
EVERROOF Tile type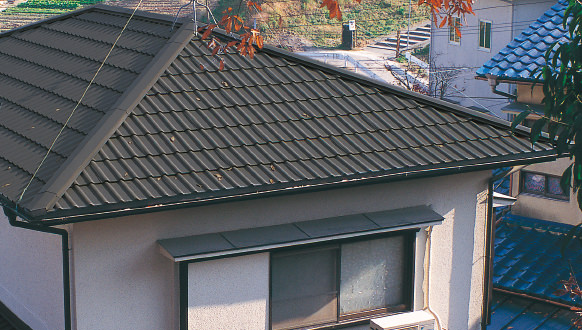 Features
A beautiful roof harmonious with Japanese style/Western style

This is a beautiful metal roof in a new era incorporating the design of Japanese tile roofs and the free design of horizontal roofs.
Strong against earthquakes and also strong against rain and wind

The weight is 1/10 that of roof tiles. Moreover, since the main body is ruggedly fixed with a retaining clip, peeling does not occur due to wind and rain or dropping and cracks due to earthquakes. In addition, it also has excellent water tightness.
It has excellent workability, is economically

Lightweight and easy to handle, and the construction method can be considerably shortened with a speedy construction method.
Uses high-grade steel sheets with excellent durability

We use high-grade steel sheets based on GALVALUME Steel Sheets, TAIMA-FLON GL ·TAIMA-COLOR GL , so we will be able to keep strong and beautiful roofs forever.
Ideal for renovation

You can build from there without peeling off the original roof for refreshing existing slate roof tiles.
Fulfilling and genuine members

As well as genuine members boasting a rich amount of variations, NISCCOLOR TERAKOTT special member specifications, which apply kiln modulation gradation, are also substantial.
NISCROOF "L145"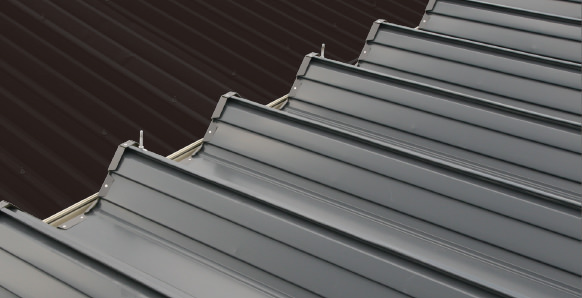 Features
High wind pressure resistance strength with a two-stage mating method

4 mating parts are responsible for dispersing wind loads. Stable and high strength is realized.
Workability improvement without retaining clips, cost-effectiveness with high strength

Without hangers, the construction work burden is reduced. Due to its high strength, it is possible to widen the main span and to reduce the steel frame.
Sharp and beautiful roof design

The innovative lighting line produced by the two-step fitting method creates a dynamic and beautiful roof appearance.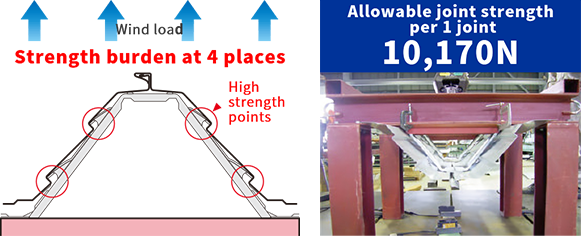 Unit mass
Plate
thickness
(mm)
Unit mass
kg/m
kg/m2
0.8
4.94
9.88
Cross section performance table
Plate
thickness
(mm)
Positive pressure
Negative pressure
Cross-sectional
second
moment
Ix (cm4/m)
Cross
section
modulus
Zx (cm3/m)
Cross-sectional
second
moment
Ix (cm4/m)
Cross
section
modulus
Zx (cm3/m)
0.8
380
51.7
345
44.6
Allowable span graph
NISCROOF L145
Continuous beam (N/m2)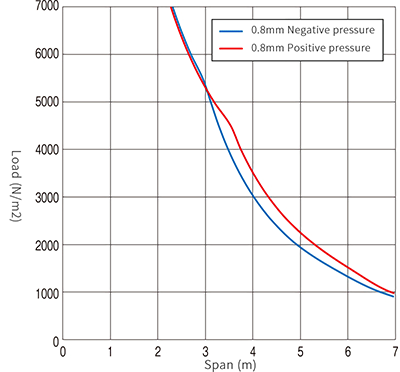 NISCROOF L145 Double folding board method
Continuous beam (N/m2)