2% Magnesium-added Aluminum/Zinc Alloy Coated Steel Sheet
SGL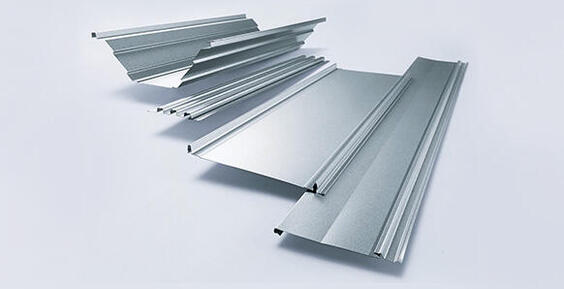 The highest peak of the coated steel sheet
It has been about 30 years since the launch of the GALVALUME Steel Sheet. The GALVALUME Steel Sheet has been used successfully all over Japan. Based on our GALVALUME production technology, we developed Magnesium(Mg) added super corrosion resistance coated steel sheet SGL, which achieved more than 3 times greater than that of GALVALUME. In particular, the corrosion inhibiting effect on cutting edges and scratches, where corrosion is easily formed, is excellent, and even in a severe corrosive environment, it achieves better corrosion resistance than that of Galvalume Steel Sheets. SGL would be suitable for the substrate of the pre-painted steel sheets and also have a good formability.
*Estimated from the corrosion weight loss measurement results of our company's combined cycle test.
Coating Structure
The coating structure of SGL which succeeded that of GALVALUME strengthen the features of GALVALUME by adding Magnesium (Mg). This structure shows quite a better performance of corrosion resistance under the severe circumstances compared with not only Galvanized Steel Sheet but also GALVALUME.

SGL's coating structure, while maintaining the "three-dimensional network structure" which supports high corrosion resistance in Galvalume Steel Sheets, has 2% magnesium added to it. It has a structure in which the magnesium-rich phase coexists in the zinc-rich phase.

Magnesium coexists with the zinc-rich phase, and has the effect of making a more precise zinc oxide film.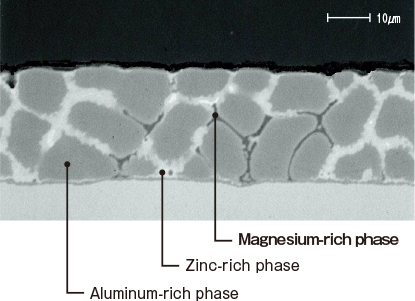 What is a three-dimensional network structure?
SGL and Galvalume Steel Sheets have complex structures in which an aluminum-rich phase with high aluminum content and a zinc-rich phase with high zinc content are intertwined three dimensionally. Since the zinc-rich phase exists in a mesh form so as to sew the aluminum-rich phase gap, even when the zinc-rich phase corrodes, it progresses through a network-like complex route, and there is an effect of delaying the corrosion rate entire plating.
This "three-dimensional network structure" is a structure which symbolizes Galvalume Steel Sheets and SGL, and it cannot be seen in other Zinc Alloy Plating.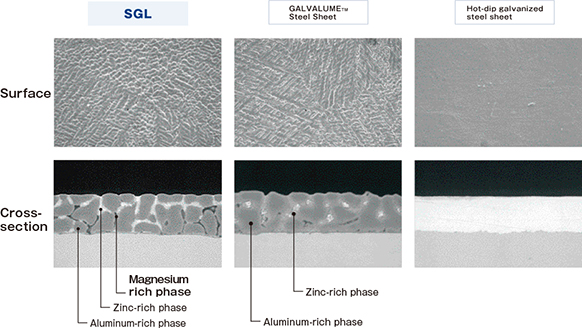 Combined cyclic corrosion test
We evaluated the SGL corrosion resistance through the "combined cyclic corrosion test", which is said to be close to the real environment.
As a result, the average corrosion weight loss of SGL was one fifth of that of Galvalume Steel Sheets, and it showed extremely high corrosion resistance.
Even considering variations in test samples the corrosion resistance of SGL is 3 times higher than that of Galvalume steel sheets can be expected.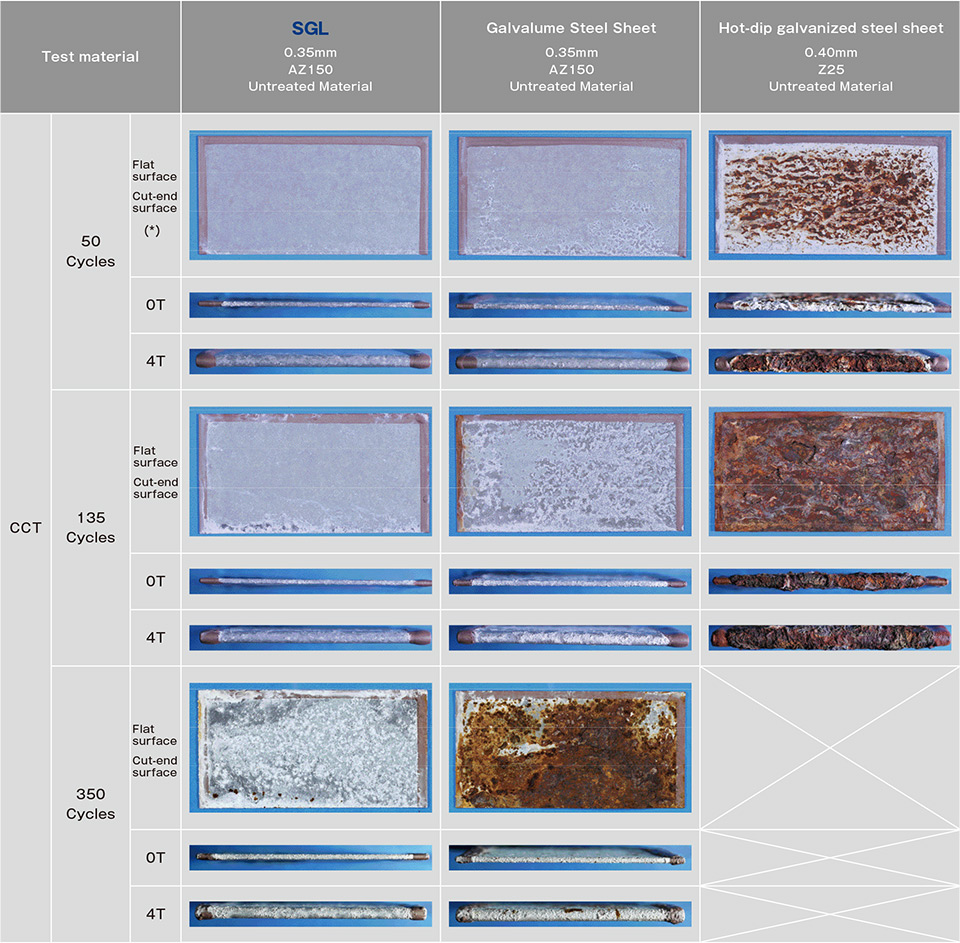 Test Method JIS H 8502 (Salt spray 2h 5%NaCl/35±1℃ Dry 4h 60±1℃/20~30%Rh Wet 2h 50±1℃/95%Rh or more)
(*) The bottom of the picture is the end portion.
Sale Spray Test
It was confirmed that even in the "salt spray test", which sprayed constantly salt water to promote corrosion, SGL exhibited very excellent corrosion resistance compared to Galvalume Steel Sheets.
Even in areas and applications affected by sea water and sea salt particles, we can expect performance better than that of Galvalume Steel Sheets.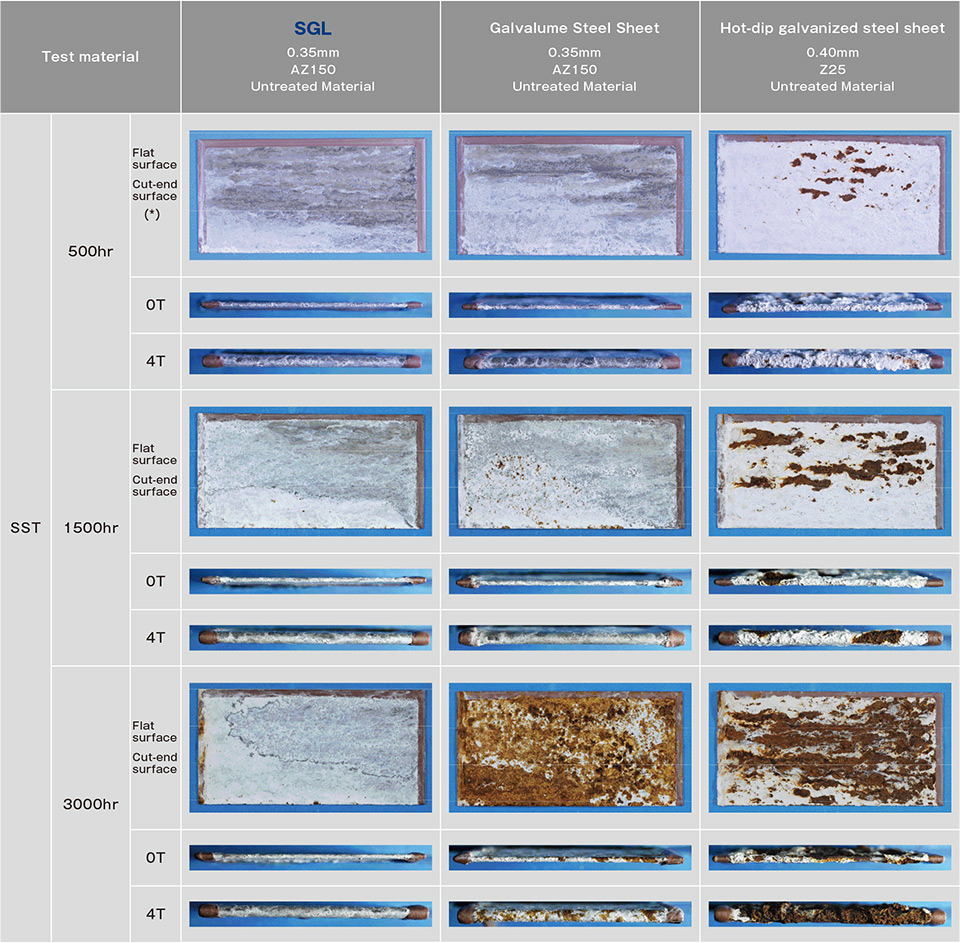 Test Method JIS Z2371
(*) The bottom of the picture is the end portion.
Outdoor exposure test
Nippon Steel Coated Sheet Corp., in collaboration with Australian Blue Scope Steel Corporation, conducts outdoor exposure tests in parallel and under various conditions both in Japan and overseas. We are confirming the performance of SGL.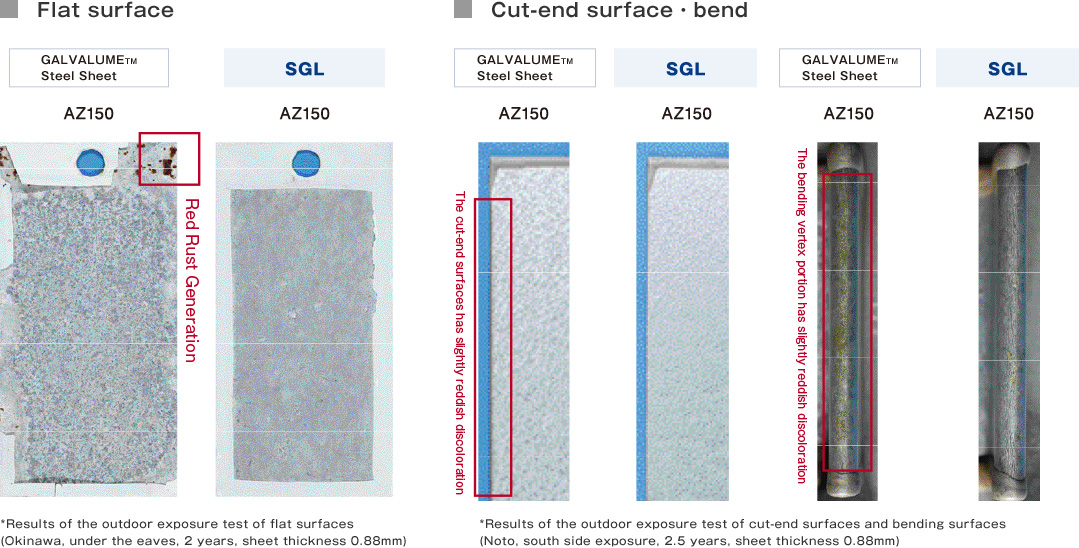 Mechanism for improving corrosion resistance
SGL has a high performance coating stracture which is strengthened by adding Magnesium with keeping typical corrosion resistance feature of GALVALUME.
The corrosion resistance performance is excellent at not only the flat surface of the sheet, but also cut-end surface and scratched surface due to the special corrosion resitance mechanism of SGL.
General Properties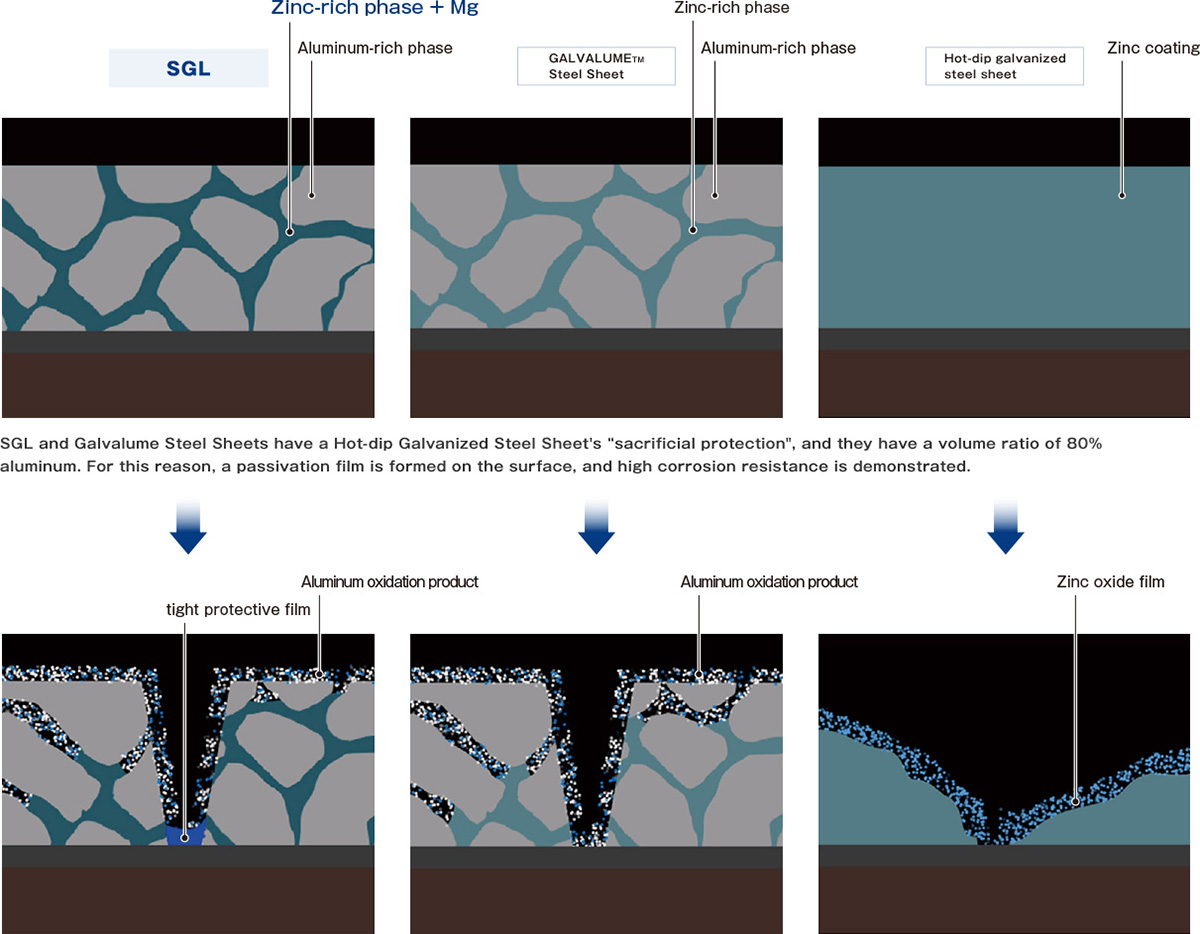 When scratches reaching the iron part occur, the zinc "sacrificial protection " works on any steel plate.
However, in the case of SGL and Galvalume Steel Sheets, since the zinc-rich phase will elute along a "three-dimensional network structure" complicated path, it can delay exhaustion of the zinc-rich phase. In addition, the gaps eluted from the zinc-rich phase are filled with tight and cohesive aluminum-based oxidation products through a "self-healing action". This function improves the durability of the entire coating layer.
Furthermore, since magnesium coexists in the zinc-rich phase, SGL produces a tighter protective film that is less soluble in water, which can demonstrate superior durability over that of Galvalume Steel Sheets. The effect is particularly noticeable at the cut-end surface/scratched surface.
Severe Corrosive Conditions
Differences are clear under severe corrosive conditions. SGL's unique mechanism for improving corrosion resistance.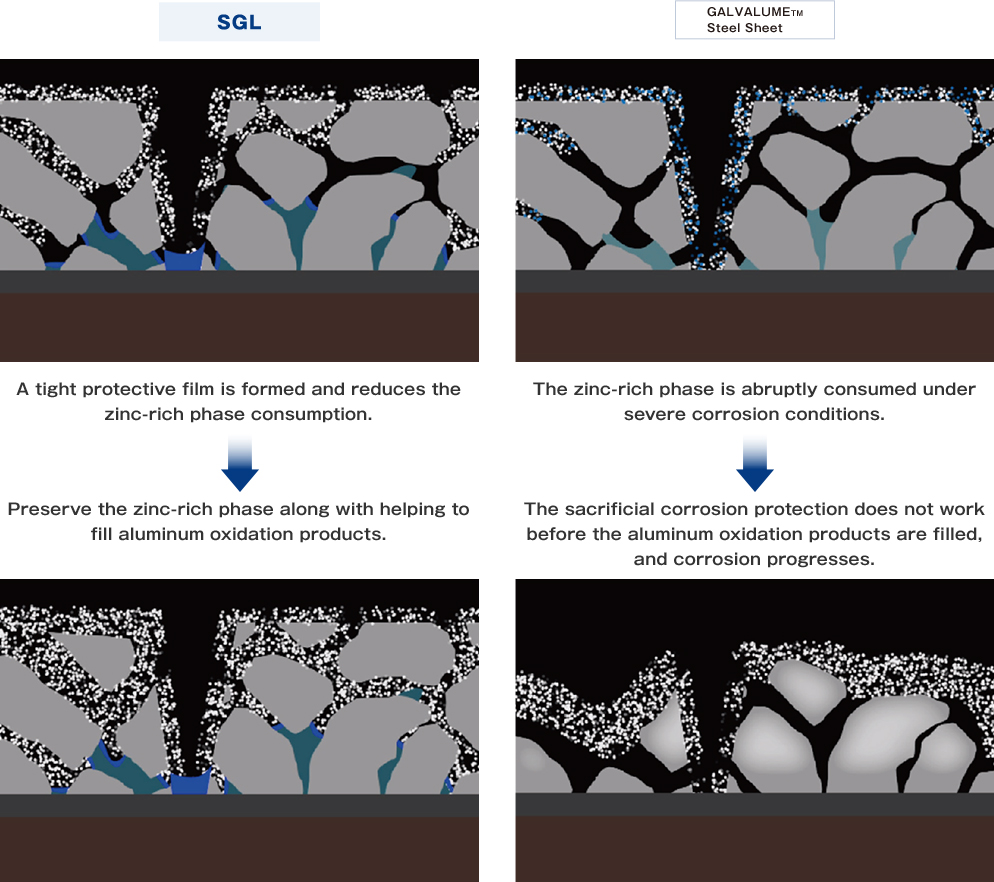 SGL's excellent mechanism for improving corrosion resistance is more prominent under severe corrosive environments.
Under severe corrosive environments, the zinc-rich phase is rapidly consumed away, so even Galvalume Steel Sheets may corrode prematurely.
SGL responded to this problem. By making the magnesium-rich phase coexist in the zinc-rich phase, it became possible to form a protective film that is tighter and less soluble in water. As this effect reduces the zinc-rich phase consumption, the "sacrificial protection" is secured for a long time. In addition, we succeeded in greatly improving the corrosion resistance of the entire coating because the "self-healing action" can be demonstrated to the maximum by securing the time until it is filled with aluminum oxidation products.
*The age display is an image.
Processability
Since SGL has a plating structure that follows GALVALUME Steel Sheet, it has processability equivalent to that of GALVALUME Steel Sheet.
Therefore, it is possible to use the molding machine used for GALVALUME Steel Sheets as is.
Due to its excellent corrosion resistance and formability, this can be adopted for a wide range of applications as well as exterior building materials.
Bending Test
SGL
0~1T
GALVALUME Steel Sheet
0~1T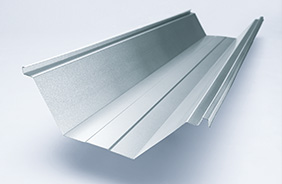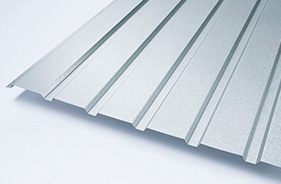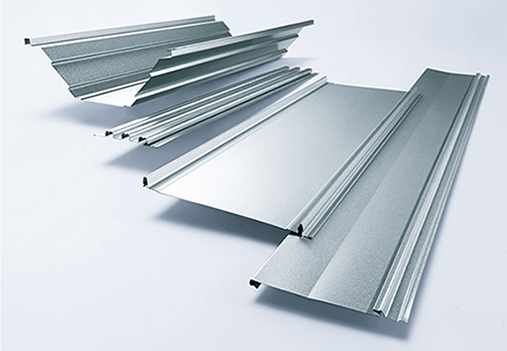 Housing (Wall Material) Construction Example
Although we adopted molded parts with a complicated shape as wall material, there are no defects such as cracks, and has a good finish.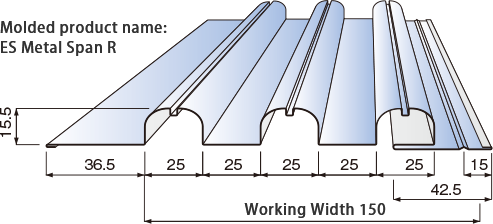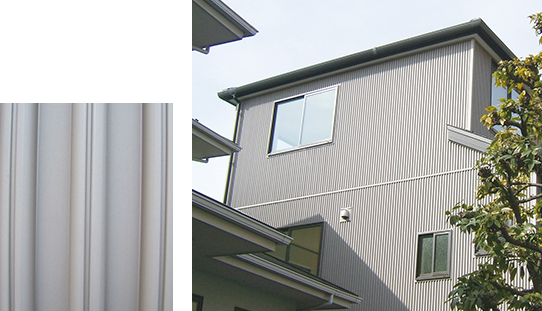 Processing Example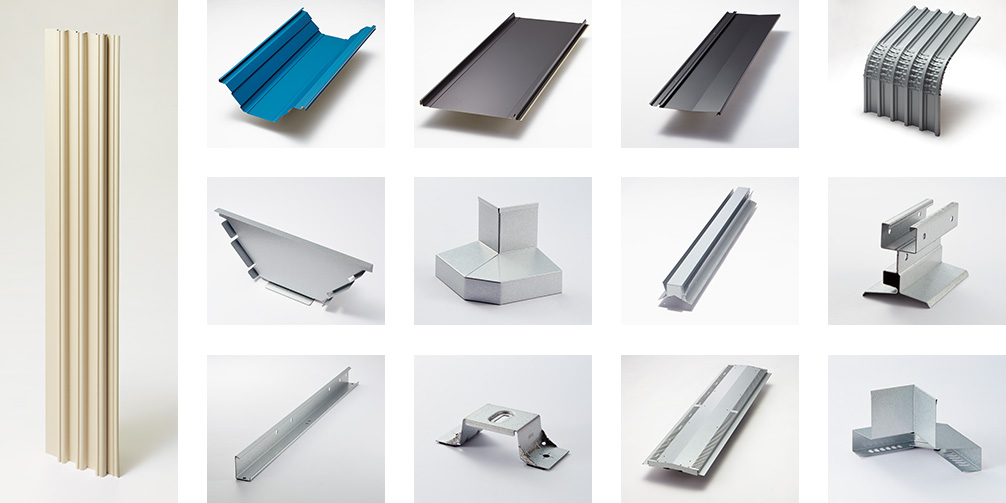 Standard Specifications
Coding and types
| Types of Symbols | Types | Thickness (mm) | Width (mm) |
| --- | --- | --- | --- |
| SGLCC | General material | 0.25~1.6 | 610~1,219 |
* Please refer to the order acceptance range.
Chemical conversion treatment symbol
Chemical conversion treatment symbol
Y
* Y treatment has turned into a chromate-free specification optimized for SGL.
Coating mass
| Code for coating mass | Relative coating thickness (mm) |
| --- | --- |
| AZ150 | 0.054 |
* Contact us for coating mass other than the above.
Order acceptance range (Material: General material)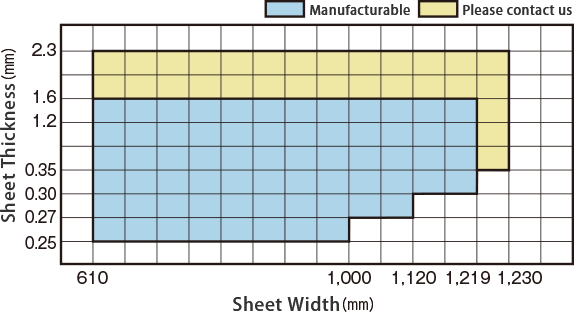 Noncombustible certification
Minister of Land, Infrastructure, Transport and Tourism Certified Noncombustible Material NM - 8697
This JIS
JIS G 3321 Standard Products